Installatron Plugin user-interface
Posted by John Roberts, Last modified by John Roberts on 28 December 2016 02:05 PM
Impeccably clean and simple.
Drawing on case studies and feedback received over the past nine years, the Installatron Plugin user-interface has been refined to provide an experience that is powerful, elegant and intuitive for even the most inexperienced website owners. Website owners will pick up Installatron Plugin in seconds or minutes, not hours or days. Signifiant user-interface changes are focus group tested, so you can rest assured Installatron Plugin will always be incredibly simple and intuitive. ( page taken directly from www.installatron.com/plugin/features )
Universal search and filtering bar.
A universal search and filtering bar streamlines searching for and filtering available applications, installed applications, and backups.
Standardized one-click workflow.
The workflow of all tasks, from installing to upgrading and restoring, use a standardized "one click" navigation and workflow. Instantly intuitive to new website owners, this model enables tasks to be completed rapidly and without navigating through multiple steps or pages.
Standardization across all tasks gives Installatron an almost horizontal learning curve.
All tasks execute in the background.
Installatron Plugin launches every task as a managed background process, enabling an accurate task progress bar and freeing the website owner to perform other tasks or even log out of the control panel while the task completes.
Website owners are optionally notified by email as tasks complete, and tasks are intelligently managed such that if one task fails, any queued tasks for the same installed application are aborted.
Time-saving multi-select options.
Website owners with multiple installed applications will appreciate the availability of standardized multi-select options, enabling tasks to be grouped so that, for example, a series of upgrades or backups can be performed as a single process.
Application preview images. NEW
Installed applications are easily identifiable through preview images displayed on the My Applications tab.
Tooltips.
Many buttons have informative tooltips that provide that little bit of extra information to help clarify exactly what the button does.
actly what the button does.
Only the best web applications.
We scour the web in search of the most mature and highest-quality web applications. The collection of web applications provided by Installatron Plugin is the result of this effort; a highly mature, thoroughly tested, and genuinely top-shelf collection of web applications. Over 200 of the web's top applications have been selected and potential additions are evaluated constantly.
Rapid and reliable application updates.
Applications are regularly updated as new versions are released. We understand the necessity of rapid security release availability and have designed our workflow to guarantee security releases and other critical bugfix releases are tested and deployed within hours of release by the application vendor, including holiday and non-business day releases.
New applications evaluated regularly.
Feedback and suggestions guide our evaluation of new and unique applications. When an application meets our standards, we contact the vendor for approval, package the application for inclusion, and publish the application package.
Categorized by purpose.
To guide website owners in selecting the most suitable application for the task at hand, applications are categorized by their intended purpose, and each category includes a helpful description.
Search and filter available applications.
Applications can be searched by keyword, enabling website owners to quickly find a specific application or type of application.
Applications can be filtered to only display if they're capable of being installed in the website owner's native language, and applications can be filtered to only display if no database is required.
Security & Privacy.
From conception security consciousness has been a central design goal for Installatron Plugin. However, our security consciousness doesn't end with our product — we also guarantee rapid deployment of application security releases to help ensure customers' installed applications are secure too.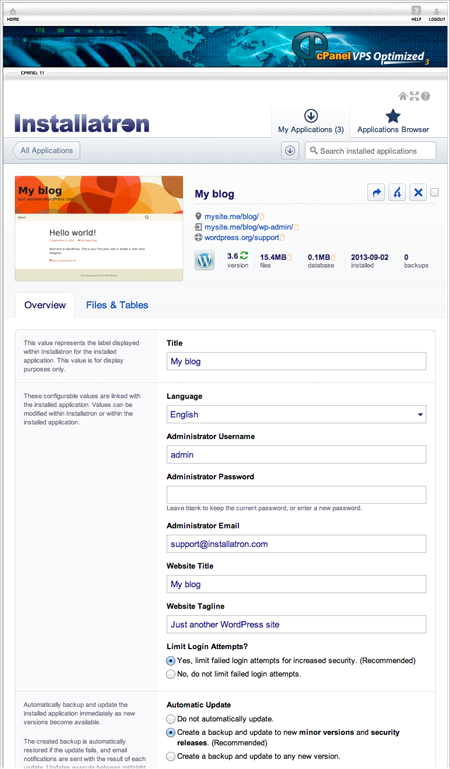 Tasks execute with user privileges.
Installatron Plugin executes all website owner tasks with user-level privileges, avoiding potential security flaws introduced when tasks execute with root-level privileges.
Password privacy.
When applications are installed a secure administrative login password is suggested, and Installatron Plugin does not cache or retain the chosen password.
Rapid updates. Guaranteed.
Installatron's Rapid Update Guarantee delivers application security releases 24/7/365. We understand the necessity of rapid security release availability and have designed our workflow to guarantee critical security releases are tested and deployed within hours of release by the application vendor, including holiday and non-business day releases.
We have a solid track record of delivering on this promise — don't leave your customers vulnerable by our competitors' inability to rapidly deliver security releases.
Stay up to date. Automatically.
Updates to application and localization packages are automatically downloaded once per day.
When a new application version becomes available, website owners with installed instances of the application are notified by email of the new version (can be disabled), or alternatively, installed applications can be configured to automatically backup and update as new versions become available, significantly reducing the amount of time installed applications are vulnerable to security exploits.
Automatic Update can be configured to only update to new minor versions and security releases, or it can be configured to update to any new version. In the event an automatic update fails, the created backup is automatically restored.
---